Laundry care is a big business. There are a quickly growing number of choices to make with laundry detergent packaging. It can be a lot to sort through, but we have never been hesitant to roll up our sleeves and get our hands dirty doing this work for customers over the years.
So how do you evaluate your options? If you have the right information and consultation from packaging specialists, we are confident you can see some excellent returns.
Market Demand, Opportunity, and Competition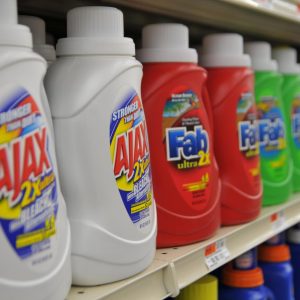 According to market research from IRI, with data for the 52 weeks leading up to November 1, 2015, laundry detergent sales were at $6.9 billion.  The bulk of this, $5.1 billion, is in liquids. However, single-unit dose packets and bars are showing significant momentum, already worth over $957 million.
This information goes to show how huge the laundry detergent category is, and MJS Packaging has provided packaging for multiple players in this industry for years. With all the emphasis on natural products, we are bound to see new players entering into this space, though the market demands can be difficult for individuals to navigate. It is an exciting time as we are able to provide more resources, insight, and options than ever before.
Explore Your Options with Laundry Detergent Packaging
There are many options for laundry detergent packaging. The lid, closure, labeling, and dispensing function can all make a world of difference. Picking the options requires taking an important first step, though. First, you must choose the format for the detergent.
Depending on your business, this may be the format you've always offered, the one you are just starting with, or the one you are transitioning into. From there, you will have a few core options for containers.
Multi-Unit Laundry Detergent Packaging
If you are offering a liquid, sizes typically range from 50 to 210 fluid ounces.  The variety of sizes is important, too. From seniors who need lighter-weight packaging for their smaller laundry loads to large families who need the quantity-convenience and cost-effectiveness of buying in bulk, we have great packaging options to meet the needs of all target consumer groups.
Liquid detergent bottles are typically made from HDPE. Since consumers expect a neat, drip-free pour, it's key to provide a good dispensing system.
You have several methods to accomplish a tidier use of the detergent. Some bottles have built-in spouts and then overlap. Other larger bottles use a spigot with a measuring cup. A third, newer option is to use a dosing system that is similar to what is seen with mouthwash. With this option, the consumer squeezes the bottle, and the correct amount for a single dose is put in a reservoir for easy pouring.
Single Unit Packets, Bars, and Pods
As a newer laundry detergent packaging option with plenty of room for customization, single-unit packets are quite unparalleled. Containers for single unit dose packets, bars, and pods can take on many shapes and sizes.
Pods can be found in resealable pouches, tubs with flip-top lids, or custom bottles. This detergent format offers the ultimate easy experience for consumers — no measuring, no dripping, no mess– and can often contain detergent, fabric softener, and even other laundry aids in one combined dose.
As trends emerge favoring convenient packaging, pods should be an option that you consider for market testing and possibly even as a regular option.
Prevent Your Brand from Fading
While your product keeps clothes fresh and vibrant, the packaging should do the same for your brand. Get the right guidance so your brand of laundry detergent can make a strong connection with consumers.
Click to start exploring our options for your laundry detergent packaging today.