In the packaging world, when you hear the term "closure," it is referencing the lid or cap used to keep the contents of a container sealed and in place. Many types of closures are designed for specific uses based on product type, key ingredients or distribution channel. 
When it comes to consumer products, closure design is primarily about functionality. When choosing a closure for your product, it's essential to consider your market's expectations.
In this post, you'll learn a few common packaging terms associated with closure types and materials.
Packaging Closures Terminology
Neck Finish
First, let's look at the specifications of a closure. You'll often see the size of a closure listed as a 24-400 or a 28-410, for example. The first part of that (the 24 or 28) refers to the diameter in millimeters. The second part (the 400or 410) indicates the actual finish, the opening, and the surrounding thread area of a container or closure.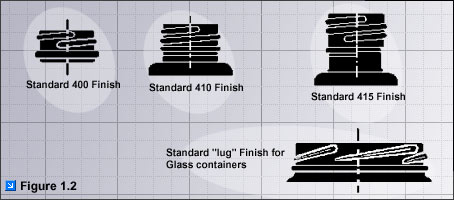 The height of the neck of the bottle and the pattern of the threads is different for each finish type. A 400 finish will have one thread turn, a 410 will have 1.5 thread turns, and a 415 will have two narrow thread turns. A closure with a 400 finish can generally work on a 410 finish container but will not cover the entire neck of the bottle. For extra assurance, you should always test your choices before ordering. [see diagram]
Types of Closures
Continuous Thread Closures
Continuous thread closures are the most common type of closure used in consumer packaging. They can be found on food jars, lotions and creams, or household cleaners. The closure is completed with a screw cap with threaded ridges that interlock with corresponding grooves on the container. Continuous thread caps also accommodate many types of liners.
Child-Resistant Closures
Child-resistant caps are often associated with products that could pose a threat to children, such as prescription medications and household cleaners. These closures are designed to prevent children under five years old from opening the container by themselves.
Products such as eye drops, mouthwash, prescription medication, and other over-the-counter medicines are required to be packaged in this way. For more information about these caps and other options, read – "When Are Child Resistant Caps Required on a Product?".
Dispensing Closures
Dispensing closures are an important feature for packaging thanks to the benefits they provide to the consumer. These types of closures are designed to allow a specific amount of product to be dispensed by the consumer, therefore eliminating wasted products. Dispensing closures also seal tight which protects against leakage and improves shelf life.
Tamper Evident Closures
Unfortunately, there are circumstances where a product can be compromised because the package was tampered with. Tamper evident closures help you protect your product from being damaged or compromised. These closures not only offer increased security but also allow the consumer to easily identify if the package or product has been tampered with.
Bar-Top Closures
Glass bottles designed for spirits, wine, and other products like vinegar usually have a distinctive bar top closure that works as a pressure seal. The closure is designed to be airtight to prevent the product from being exposed to oxygen, as well as for the evaporation of spirits, wine, or other high-proof products. These closures are made of high-quality plastics,  metals and cork, and can easily withstand the impact and pressure created when sealing and opening and will make your product appear more elegant to consumers.
Packaging Closure Materials
Let's move on to some common materials used for closures. Your packaging needs might require using polypropylene (PP). It is a hard and durable plastic that has high resistance to chemicals, as well as good dimensional stability. These closures are strong and cost-effective. PP closures are the most widely used in the world in basically every industry, including personal care, nutraceutical, pharmaceutical, chemical, food, and beverages.
Polyethylene (PE) closures are also resistant to chemicals and offer ease of sealing and opening. Polyethylene is particularly useful in situations where lightweight and ease of opening are critical.
Another common plastic that is used for closures is Phenolic, which is the generic name for Phenol-formaldehyde thermosetting plastic. This resin, also referred to as Bakelite, is quite hard and is used to produce only black closures. Phenolic closures offer a wide range of compatibility to various chemicals and are the most temperature tolerant of plastic closures.  

Metal Closures
There are also many metal closures made of either steel or aluminum. These are commonly found with food and beverage products and some industrial products. Metal closures can tolerate a wide range of temperatures and are very unlikely to break upon impact.
What's Best for You?
MJS Packaging can help you figure out what closure is best for your product and help you identify some exciting possibilities. We carry many different types, styles, sizes, and materials to meet your every need. For more information, please feel free to contact us for a consultation. You can get started now by checking out our closures online or contacting us online and one of our representatives will be happy to assist you.